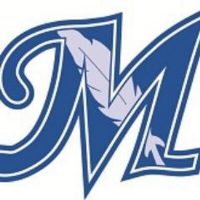 LA JUNTA, Colo. – The McCook Community College golfers came back from one-shot back on Thursday to win the wind-shortened Otero Junior College tournament Friday.
With 80-degree temperatures, 40 mph winds and gusts more than 50 mph, the meet was called after nine holes. The Indians started Friday in a battle with Lamar Community College and Eastern Wyoming – all three teams within four strokes. On Friday Otero Junior College made up ground and joined the race at the top, shooting four shots better than ever other team with a 159.
MCC shot a 163 on Friday to win with a two-day total of 457. Lamar finished second with a 459, Otero finished third with a 463 and Eastern Wyoming (which entered the week ranked 15th in the National Junior College Athletic Association rankings, finished fourth at 464.
"Days like today — with the wind gusting above 50 — make even the easier things about golf challenging and it is mentally exhausting," MCC Coach Tyler Loop said.
Freshman Cameron Lampe (Windsor, Colo.) shot a 41 Friday to tie for third with a 113. Sophomore Colton Zulkowski (Ord, Neb) was tied for seventh at 114. Sophomore Kaleb Wonderly (Benkelman, Neb) who shot a career best 70 on Friday followed with a 47 Friday to finish with a 117. Sophomore Brady Rogers (Ord, Neb.) who shot a 77 Thursday came back with a 39 on Friday to finish with 116. Freshman Graham Gaspard (Breckenridge, Colo.) finished with a 122 and Freshman Brady Wonderly (Benkelman) had a 137.
"I am proud of how positive we were and that — I believe — made all that difference," Loop said.
Central Wyoming's Kash Kaufman won individual honors with a 111.
MCC returns to Region IX play Wednesday and Thursday at the Lamar Community College Invitational in Lamar, Colo. — followed by the MCC Invite April 5-6 at Heritage Hills.