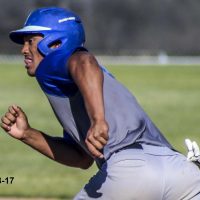 The McCook Community College men's baseball team dropped a doubleheader Saturday to Trinidad State losing the first game 9-0 and the second one 11-3. Trinidad also won the opener of the series 12-0 Friday and is now (15-4) on the season.
Trinidad State 9, McCook 1 – The Indians let the game slip away early surrendering three runs in the first and two in the second.
Connor McGonical (Omaha, Burke) pitched 3.2 innings, was tagged with the loss giving up eight runs, five hits and four walks. Tyler Cox (Mississauga, Ontario) allowed one run over 2.1 innings.
Mathew Tremblay (Saint-Charles, Quebec), Julio Seperich (Las Vegas, Nevada), Dylan White (Las Vegas, Nevada), and Tanner Zeggil (Stagner, Ontario), each had one hit.
Trinidad State 11, McCook 3 – The Trojans overcame a 3-2 deficit scoring six run in the third and adding single runs in the next thee frames. MCC was guilty of four errors in the game.
MCC trailed 2-0 in the second. Tanner Zeggil singled, Jason Hill (Surrey, British Columbia), walked and they both scored on a double off the bat of Jake Sanford (Dartmouth, Nova Scotia), who scored on an error to give MCC the 3-2 lead.
Sanford had a double and two singles for MCC the other hits – all singles – came from Dylan White, Zeggil, Dalton Bartling (Ashland, Neb) and Chris Bellemare (Grande-Carriere, Quebec).
Jesse Bloom (Centennial, Colo), Kaden Sitzman (McCook) and Casey Quagliano (Colby, Kan,) pitched for MCC.
MCC (2-8) is set for the home-opener Wednesday against St. Clare at the Jaycees Sports Complex followed by a weekend series with Lamar Community College Saturday and Sunday.