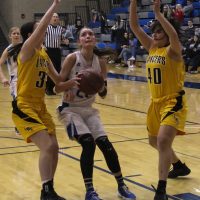 The McCook Community College Lady Indians lost to top-seeded Western Nebraska Friday in the opening round of the Region IX tournament, 87-55. The loss ends the season for MCC.
Things looked promising in the beginning as the Lady Indians kept pace with the Cougars after 10 minutes and tied the game at 13-13 after one quarter, but WNCC's depth took over and MCC never challenged.
"The game got away from us. WNCC is a great team, and their big three had 55 points," Fernetti said referring to Western Nebraska's trio of Melisa Kadic, Merle Wiehl and Jalessa Avery.
"They are deep, talented, and well-coached team," Fernetti said.
For MCC, Freshman Sam Hinkle (Rifle, Colo.) had 15 points. Freshman Brook Jamison (Hyannis) and Sophomore Gabby Enloe (Colorado Springs, Colo.) both had 14 points.
Hinkle led MCC with 10 rebounds, Enloe had 9.
MCC shot 35 percent from the floor, 38 percent from the 3-point arc, and made 20 of 27 free throws (74.1 percent).
"I know this season isn't what any of us wanted, but the team kept competing. Sometimes you have to go through something in order to gain something," Fernetti said.
Western Nebraska improves to 27-3 on the season and will play the lowest seeded winner in the next round of the Region IX tournament.
MCC ends the season 6-25.
"We will evaluate everything and look forward. Always forward will be our mentality as we head to the off-season," Fernetti said.