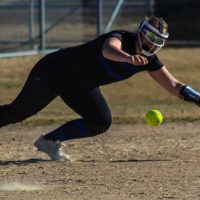 The McCook Community College Lady Indian softball team swept a Sunday doubleheader against Otero to take the weekend series over the Rattlers three games to one. MCC won on Sunday 15-14, and 7-5. The Lady Indians lost the first game Saturday 9-7 in 10 innings and came back to win the nightcap 16-15.
"Overall it's nice to get three out of four games,' MCC Coach Josh Barnes said. "We had great crowds each day which really helped us out," Barnes said.
Alexis Moeaki (Las Vegas, Nevada) smacked four home runs on the weekend, hitting .556 in 18 at bats with nine runs scored, and 16 runs batted in. Emily Charchuk (Victoria, B.C.)  batted .615 for the weekend with eight hits in 13 at bats, nine runs scored, seven RBI, two doubles and three triples. Isabel Saner (Roy, Utah) batted .470 with six RBI and four extra-base hits.
"I really challenged our team offensively on Day 2 and they responded well." Barnes said.
On the mound, Taya Thorpe (Malad, Idaho) picked up two wins and a save while Kayla Harrison (Richmond, B.C.) picked up her first win of the season in game two Saturday.
"Our pitching staff continued to battle and put us in a good place to succeed. The final scores were close because of our struggle to close out the games. We allowed 5 runs in the 7th inning of all three wins," Barnes said. "We will rest up a little bit and figure out how to close out games and keep the hot bats going."
MCC finally lifts its season record above .500, and now is 8-6 on the season.
The Lady Indians travel to Northeastern Junior College for a doubleheader Wednesday then return home for a weekend set against Trinidad State with the Saturday doubleheader starting at 11 a.m. and the Sunday doubleheader starting at 10 a.m.