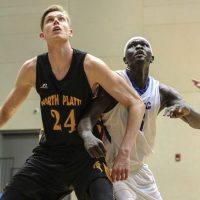 The North Platte Community College men downed MCC Tuesday night 75-63 to win the Nebraska Community College Athletic Conference Championship.
North Platte finishes with a 5-1 conference mark and after starting 4-0, MCC finishes at 4-2.
"They just beat us in every sense of the word and every facet of the game," MCC Coach Brandon Lenhart said after the game. "They have gotten much better since the last time we played them and they deserved this win."
MCC opened the homecoming game hot, jumping to a 12-point lead in the opening 9:59 of play.
"We had a few moments in the first half but that was about it," Lenhart said.
MCC led 9-2 in the first 2:56 and extended the lead to 22-10 at the 10:01 mark of the first period but the Knights reversed things and went on a 22-10 run of their own to tie the game at the half 32-32.
After shooting 37 percent from the field in the first half, the Knights poured it in at a 55.6 percent clip in the second half. North Platte scored the first six points of the second half and never looked back.
Godfrey Rolle led NPCC with 21 points and Jakub Karwowski added 19 points and 11 rebounds as the Knights improve to 12-12 on the season.
Peanut Cunningham (Louisville, Kent.) led all scorers with 24 points and nine rebounds. He hit both his 3-point attempts.
Isaiah Richardson (Queensland, Australia) had 13 points on three-of-six from distance.
Chinedu Okonkwo had seven points and six rebounds. Sophomores Toni Kumanovic (Zagreb, Croatia) and Shevelle Bailey (Titusville, Fla.) each had six points. Kafani Williams (Pembroke, N.H.) had five rebounds.
"We've had a lot of distractions, most of it self-inflicted, and I hope we can improve. There is a lot of soul-searching that needs to take place in the next few days.
The Indians fall to 17-11 this season and 9-4 at the Peter and Dolores Graff Events Center.
"There's a lot of room for us to improve before post-season and we need to do that while winning along the way."
MCC closes out the season with a pair of games at home this weekend, taking on Western Nebraska Friday at 7:30 p.m. and Eastern Wyoming Saturday at 4 p.m.