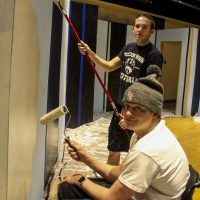 McCook Community College Theater Instructor Clay Grizzle believes one of his roles as a teacher of the humanities is to lend perspective and bring attention to social issues. This semester he wanted to stage a play that would bring attention to a time (and place) in history that Grizzle believes is being forgotten – the 1960s and the South.
"Too many young people don't understand the impact of what happened in this country in the 1960s," Grizzle said. "This was an important time in American history."
Since arriving on campus in 2013, Grizzle has wanted to stage a play to shine a spotlight on Black History Month, but the scripts he liked either required too many cast members or wasn't a good fit for MCC.
Grizzle caught up with a former student of his a Panola College in Texas, after conversations about plays and scripts, the student – Camron Banks — agreed to come to McCook to take on the role of Nathan in "And The Rains Came To Mayfield."
"This is a story about a Mississippi family that is in the process of falling apart – in part because some of them are living in the past. When the local police drop of Nathan – the first black man to be admitted to the University of North Mississippi — at their small gas station/luncheonette, it is at the height of this family crisis," Grizzle said.
Banks drove up from Texas on Sunday to join the cast in rehearsal for the production on campus Feb. 22-25.
The "family in crisis" includes patriarch Jack, played by Will Babbitt, who was Mayfield's star quarterback 25 years earlier, led his team to the state championship, and married his high-school sweet-heart Emma, portrayed by Brice Ardissono, who was cheerleading captain.
The family's crisis centers their son Carl, played by Brandon Molcyk, who doesn't want to be a part of the family's gas station/luncheonette and instead wants to go to college.
"This is a story about two men – Nathan and Carl – who have distinctly different backgrounds but through brief conversations they realize they have as much in common as two people could have," Grizzle said.
Other cast members include Lindy Johnson who plays the part of Emma's friend and hairdresser, "Mavis;" Emmerie Roth who plays "Dixie" the 16-year old who is sweet on Carl; and the police officer, played by Kedric Tufton. MCC Sophomore Luis Guardado is the assistant director for the play.
The MCC Art Department and Instructor Rick Johnson created the background art with painting help from art students.
The play will be performed at the Weeth Theater in Tipton Hall on the MCC campus Feb. 22-24 at 7 p.m. each night and a 2 p.m. matinee Feb. 25.
There are no admission charges for MCC Theater performances but donations are accepted.