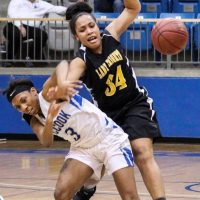 Despite a 40-point effort from freshman Aliyah Foote, the McCook Community College Lady Indians lost to North Platte Tuesday night at home 93-88.
"We scored 88 points and lost," MCC Coach Kellen Fernetti said. "Our defense just hasn't gotten any better all year, and I shoulder all the blame."
The Lady Indians raced to a solid start taking a 21-10 lead in the first quarter but the Knights closed out the period on a 12-4 run and trailed 25-22 after 10:00 minutes of play. The teams battled on mostly even terms through the third period. MCC led at the half 48-46 and 72-71 after three periods.
"Defense and rebounding have been a major issue for us all season and North Platte exposed that today," Fernetti said.
The Lady Knights had 26 offensive rebounds and held a 50-45 edge in total rebounds.
MCC also left 16 points at the free-throw line and shot just 51.5 percent for the game.
"When you go 17-33 from the free throw line and you give up 26 offensive rebounds, you're not going to win," Fernetti said.
Freshman Aliyah Foote (Lawrenceville, Ga.) led all scorers with 40 points. She was 15 of 19 from the floor, made 14 of 15 inside 3-point territory and one of four from the arc. She made nine of 17 free throws and also led her team with eight rebounds
Freshman Brook Jamison (Hyannis, Neb.) had 17 points on a seven-for-12 night from the field (one of three 3-pointers) and two of four from the line.
Freshman Sam Hinkle (Rifle, Colo.) had 12 points and five rebounds.
Gabby Enloe (Colorado Springs, Colo.) had six points and three rebounds. Juju Rosado (Coral Springs, Fla.) had six points and two rebounds. Sophomore Grace Wellman (Charlotte, N.C.) had seven rebounds.
North Platte improves to 4-19 on the season with two wins over the Lady Indians. The Lady Knights beat McCook Jan. 31 by the score of 76-74.
MCC falls to 6-22 and 5-7 at home.
The Lady Indians close out the season with a pair of games at home this weekend. Western Nebraska comes to town Friday for a 5:30 p.m. game and Eastern Wyoming will be in town Saturday for a 2 p.m. game.