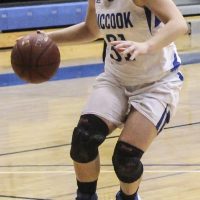 The McCook Community College Lady Indian basketball team is back on the court Sunday to take on conference foe Southeast Community College at 1 p.m. in the Peter and Dolores Graff Events Center.
"We are looking forward to the second half of our season with a lot of excitement, energy, and enthusiasm," MCC Coach Kellen Fernetti said. "We were able to put together more competitive basketball down the stretch in the first half."
MCC is 3-10 on the season but all three wins came at home. Sunday's opponent is 4-9 and is a key Nebraska Community College Athletic Conference matchup. Sunday will also be TeamMates Mentoring Day, with free admission to all mentors and their mentees.
"Our workouts since our return from break have been pretty solid. Our focus will continue to be about us and our development as a team and individuals," Fernetti said.
The coach said a few things need to improve this semester.
"We need to value the basketball, we can't turn the ball over like we did the first half of the season. Secondly, we need to play with a great pace and executing our stuff," Fernetti said.
The Lady Indians only other January home game will be Jan. 13 against Northeastern Junior College. MCC will play seven road games before returning home Feb. 2-3 to host Otero Junior College and Lamar. The MCC women will end the season with three home games: Feb. 20 against North Platte, Feb. 23 against Western Nebraska and Feb. 24 against Eastern Wyoming.
"We play the game very hard, and if we can improve in key areas, we can improve, and give ourselves a better chance this semester. We know that we have to bring our best every day with the tough Region IX and NCCAC schedule ahead.  We are excited about the challenges ahead," Fernetti said.
MCC Freshman Aliyah Foote, Lawrencevilla, Ga., is MCC's leading scorer with 12.1 points per game and ranks 11th among Region IX players. In addition to shooting 40.8 percent from the field she ranks sixth in the region in free-throw shooting (66.7 percent) and 16th in 3-point shooting (32.7 percent).
After starting the season injured, sophomore Colby Cox, Wauneta-Palisade, has come on to average 9.3 points per game.
Freshman Sam Hinkle, Rifle, Colo., is third on the team in scoring with 8.4 points per game; Freshmen Juju Rosado, Coral Springs, Fla., and Sophomore Grace Wellman, Charlotte, N.C., are averaging 6.2 points per game. Freshman Brook Jamison, Hyannis, averages 5.7 points per game and Sophomore Gabby Enloe, Colorado Springs, 5.6.
Wellman ranks seventh in Region IX with 6.6 rebounds per game while teammate Enloe is eighth with 6.5 per game. Hinkle is 12th in the region with 5.6 per game and Jamison ranks 19th with 4.3.
WOMEN'S Region IX
2017-18 Basketball
Division I – South Standings
W            L
Lamar                                                    2              0
Laramie County CC                          2              0
Western Nebraska                          2              0
Otero JC                                               1              1
Trinidad State                                    1              1
McCook                                               1              3
Eastern Wyoming                            0              1
Northeastern JC                               0              3