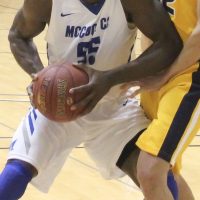 The McCook Community College Men's basketball team returns to the court Sunday to begin the second half of the season in a 3 p.m. contest against Southeast Community College.
The Indians lost a pair of games in Colorado Dec. 9-10 to end the pre-holiday schedule with a 9-4 mark and look to get back on track at home Sunday where the Indians enjoyed a 7-1 record. MCC is 1-3 in Region IX play and 1-0 in Nebraska Community College Athletic Conference play. NCCAC foe Southeast enters the weekend contest 1-14. Sunday will also be TeamMates Mentoring Day, with free admission to all mentors and their mentees.
The game with Southeast is just one of two on the home slate for the month of January — the other one being Jan. 13 against Northeastern Junior College. The Indians play six January road games including a Jan. 31 contest at North Platte. After hosting Otero and Lamar Feb. 2-3, the Indians are back on the road for four games before ending the season with a three-game home stand Feb. 20 against North Platte, Feb. 23 against Western and Feb 24 against Eastern Wyoming.
MCC's Chinedu Okonkwo is Region IX's leading rebounder, according to the latest statistics. The Sophomore from Nigeria is averaging 9.2 rebounds in 23.5 minutes of playing time per game including 58 offensive rebounds (best in the region) and 62 defensive rebounds (sixth best in Region IX.)  He also averages 11.4 points per game and has connected on 56.9 percent of his shots from the field (seventh best in Region IX).
Sophomore D'Von Moore, Statesboro, Ga., leads MCC and is 11th in the region averaging 14.8 points per game. He's making 36.0 percent of his 3-point shots and averages 2.9 assists per game.
Freshman Peanut Cunningham, Louisville, Kent., is the other MCC players averaging double digits with 10.0
Sophomore Chuol Biel, Grand Island, has the Region's best shooting percentage connecting on 67.7 percent of his shots from the floor (42-for-62). He is two-for-two from the 3-point line and has made 70.6 percent (12 of 17) of his free-throw attempts. He averages 4.7 rebounds and 7.5 points per game.
Freshman guard Isiah Richardson, leads MCC in 3-point shooting making 37.9 percent of his 58 shots from beyond the line. That ranks 15th in the Region. The Queensland Australia native has started 11 games for the Indians and averages 7.7 points per game.
Sophomore Toni Kumanovic has 16 steals on the season, good for 11th best in the region and his 44 assists rank 17th. He has started six games and averages 5.8 points per game.
-30-
2017-18 Men's Basketball Division I – South Standings
W            L
Western Nebraska                2              0
Laramie County CC               2              1
Lamar                                     2              1
Otero JC                                 2              1
Trinidad State                        2              1
North Platte                           2              2
McCook                                  1              3
Northeastern JC                    1              3
Eastern Wyoming                 0              2