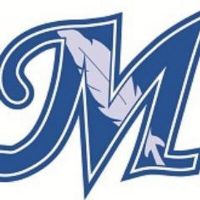 The McCook Community College men wrapped up the MCC Fall Classic Saturday with a 93-67 win over Air Force Prep in the Peter and Dolores Graff Events Center to start the season at 6-1.
All five Indian starters scored in double-figures but it was the defensive effort that Coach Brandon Lenhart was most proud of.
"We took advantage of mismatches and dominated in every facet tonight," Lenhart said.  "I am really proud of the way our guys defended. To hold them to 31 percent shooting for the game is pretty special." The Huskies shot 53 percent from the floor Friday in a 106-81 win over William Penn JV team.
MCC opened up a tight game midway through the first half with key 3-pointers from D'Von Moore (Statesboro, Ga.) and Isaiah Richardson (Queensland, Australia) which helped push the lead to 49-36 at the half.
The Indian defense clamped down in the second half limiting the Huskies to a 10-for-40 showing (25 percent).
"Air Force Prep came out in the second half and continued to battle hard they didn't let up," Lenhart said. "But on defense we communicated, we helped, we rotated and we just made everything difficult for them."
Moore led MCC offensively with 17 points. Peanut Cunningham (Louisville, Kent.) had 14 and Richardson  added 13. Chinedu Okonkwo (Nigeria) had a double-double with 11 points and 10 rebounds. Chuol Biel (Grand Island) scored 10 points and six rebounds. Kafani Williams  (Pembroke, N.H.) contributed 10 points and four rebounds off the bench.
MCC shot 55 percent for the game including 12-for-26 from the 3-point line (46.2 percent)
For the second night in a row all players that suited up saw playing time.
"That's important, everybody in the basketball family works hard so it's nice to be able to reward them and keep everybody rested," Lenhart said.
MCC won the rebound battle 46-27 and committed 21 turnovers for the game compared to 14 for Air Force Prep.
In the other game Saturday the William Penn JVs beat Presentation College 60-30.
The Indians return to the home court Tuesday for conference play when both the men and women play Central Community College with the women's game at 5:30 and the men's game to follow.
"Most of our students will be leaving Tuesday for Thanksgiving break so hopefully we have community support," Lenhart said. "Central will be tough opponent with some speed at the guard position, it will be a good test for us they are a well-coached team that will be ready to play."