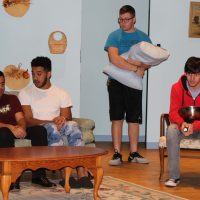 McCook Community College's presentation of "The Boys Next Door" opens Thursday and continues through Sunday at the Weeth Theater in Tipton Hall on campus.
Performances are at 7 p.m. Thursday, Friday and Saturday with a Sunday matinee at 2 p.m. There is no admission charge.
This play may be one of the most challenging ones facing MCC actors in recent memory according to Director Clay Grizzle.
"Basically this is a play about four men who have mental challenges and this play documents their struggles to try and live a normal life and be part of a community – just like all of us," Grizzle said.
"The Boys Next Door" is a two-act comedy-drama about four intellectually disabled men who live together in a small apartment.
Arnold Wiggins (played by Brandon Molcyk), is the ringleader of the group, hyperactive, compulsive chatterer, and suffers from deep-seated insecurities and a persecution complex;
Lucien P. Smith, (Hunter Layton), has the mind of a five-year-old but imagines that he is able to read and comprehend the weighty books he lugs about;
Norman Bulansky (Harley Scott), who works in a doughnut shop and is unable to resist the lure of the sweet pastries, takes great pride in his huge bundle of keys;
Barry Klemper (Luis Guardado), is an aspiring golf pro and a brilliant schizophrenic who is devastated by the unfeeling rejection of his brutal father,
Their lives intermingle with Jack (Ethan Poore) the caring social worker who is on the verge of career burn-out; Barry's father (Dan Sewell) Mr. Hedges and Mr. Corbin (Will Babbitt); Mrs. Fremus, The Senator (Brenda Hayes); Mrs. Warren, Clara (Mary Kain); and Shelia (Lindi Johnson).
"For our students at their ages, I think it's an enormous stretch to prepare for each of their characters and develop how their characters interact with each other," Grizzle said, "I am so proud of them."
There is no admission, but for those who'd like to support MCC Theater, a donation box will be placed near the entrance.
"We don't charge admission for our plays, we put a donation box just as you enter and we don't mind if you wait to see if the play is worth it before you decide to donate or not," Grizzle said, "We just appreciate how McCook supports live theater."