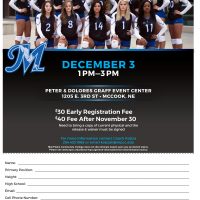 The McCook Community College volleyball team is holding open tryouts Dec. 3 from 1-3 p.m. at the Peter and Dolores Graff Events Center.
Last year four current MCC players received scholarship offers during the tryout camp and MCC Coach Hayley Kobza said that is her intention again this year.
This tryout is open only to 2018 high school graduates. There is an early registration fee of $30 before Nov. 30 and $40 after.
Players need to bring a copy of a current physical and the release and waiver form (also available on the MCC Athletic Site) must be signed. For more information, contact MCC Volleyball coach Hayley Kobza, (254) 433-1968.