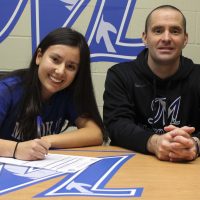 A versatile Colorado guard has signed a letter of intent to play basketball next season at McCook Community College.
Kali Kelley, of Mountain View High school in Loveland was in McCook Friday to make it official and signed her letter of intent with the Lady Indians and Coach Kellen Fernetti.
Kelley said from the moment she set foot on campus during a visit this summer she knew her college search was over.
"It just immediately felt like home here," she said "It just seemed like everything clicked right away," she said citing her impression of Coach Fernetti and his philosophy, the campus, facilities, "and how supportive McCook is of the college athletic programs here."
As a senior she hopes to help lead Mountain View back into the playoffs for a second straight season. She also plays tennis.
She plans to major in Sports Management at MCC.