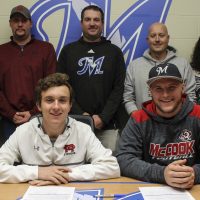 A pair of McCook High School seniors and American Legion baseball players have signed their letter of intent to play for McCook Community College next year.
Clayton Stevens and Kaleb Tayler, teammates on the McCook American legion Post 203 team, will continue as teammates in MCC blue.
"I think McCook's Legion baseball program is moving in the right direction and these two players are a great example of that," said MCC Baseball Coach Jon Olsen.
"They are getting great coaching to the point we'd like to keep adding McCook players to our squad. We want McCook kids to come here and be successful," Olsen said.
Olsen has been watching both these players for several years, and thinks their collective talent – and timing make it a good fit for both MCC and the players.
"We're going to have a sophomore-heavy team in the spring and a lot of infielders in that group, so they've got a real chance to come in here and help this team as freshmen," Olsen said.
The MCC coach said he recalls watching the McCook Legion team play a doubleheader against Gering and he saw Stevens make a college-level play at shortstop.
"He can defend, and if you're going to play infield at MCC, you need to be able to defend at a high level," Olsen said.
While Stevens played shortstop, Taylor plays third base and catcher.
"Caleb provides a ton of pop, he's big, he's athletic and he's one of the better pure American Legion hitters around, so in terms of potential and ability, he's a nice addition to our team."
Taylor said from a financial standpoint MCC made a lot of sense and staying home gives him the chance to continue playing the sport he loves. He plans to study nursing at MCC.
"Playing here will be a huge step up in terms of competition they'll face in college, but I'm excited they're coming here to take that step," Olsen.
-30-