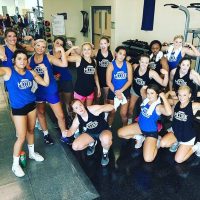 The second year under
Hayley Kobza
will officially get under way for the McCook Community College Volleyball team as the calendar turns to August. Coach Kobza will look to continue the rebuilding process, coming off an 8-24 year in 2016. MCC will have some experience on the roster with five players returning off last year's squad, including
Dylan Bylund
, who received All-Region IX Tournament Team nod this past year.
Coach Kobza knows the importance of the month long training camp before the Lady Indians opening the 2017 season with a tournament at Southeast Community College in Beatrice on August 25.
"I look at (the opening of camp) as a goal setting time. And how fast can myself and my team get our goals in our sight and ready for the season," said Coach Kobza. "We are going to be working on building better athletes off the court with Crossfit at McCook Crossfit, cardio, and weight lifting. Along with all the working out, we are going to be working hard in the gym on building a solid team with every player as an option."
Coach Kobza also believes her squad is headed toward a big year. "I believe this team is going to do great things. I think we will be a group that won't make excuses. That is something that I really thrived for myself the past few months for my own personal goals and I want the girls to really put that into every single workout, drill, and goal. We are going to have plenty of position battles this year, but I am excited to see how our three setters battle for playing positions; Dylan Bylund, Ashley Carson, and Brooklyn Evans, have all crushed their summer workouts and have already shown that they are goal driven and team players. Our goal for training camp, which is our goal almost every year, is to become better than they were the day before and to become faster, stronger, and team players."
Training camp will have to get the Lady Indians ready, they'll open with five games in the first four days of the season, with the home opener set for August 29th against Kansas Wesleyan, starting at 6 p.m. You'll be able to watch all Lady Indian home volleyball on TribeWatch.