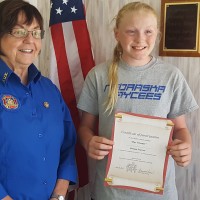 12 year old Morgan Peterson from Imperial is this years VFW Auxiliary state-wide essay contest winner.  Peterson, who was a 6th grader at the time of the contest, had to use words in a crossword to write a 250 to 300 word essay about "Out Veterans". There were over 130 entries in this years contest and Morgan finished in first place.  VFW Auxiliary Local and State President Sue Moore presented Peterson with a Certificate and cash prize for her entry.
Moore said, "it's been a while since we've had a state winner in Chase County." More also said, "I encourage the young people to enter these contests as they reach junior and senior high, there are huge scholarships awarded as well as cash prizes."
We had a chance to talk to Peterson on KADL call and she also read her essay. Please listen below.
Interview with Morgan Peterson
Morgan's Essay