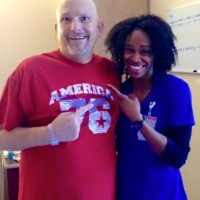 Deputy Mike "Hutch" Hutchinson was shot multiple times in the line of duty in December of 2015, while serving a warrant issued by Keith County, Nebraska and Sedwick County, Colorado on Neil Stretesky.  Hutchinson has not been cleared by medical or mental health doctors to return to work due to the result of the shooting and continues to recover in his rural home near Chappell.  In May, Hutchinson and his wife received word their healthcare coverage through Blue Cross and Blue Shield of Nebraska would be terminated because he was not working more than 30 hours a week.  Hutchinson and family members continue to ask the county to reinstate his healthcare and/or pay for a COBRA policy while he continues to recover.
We recently had a chance to talk to Hutchinson and his daughter Sarah, you can listen at the links below.
Deuel County Officials released a statement today, saying.
"As an initial matter, Deuel County wants to thank all of the people from across Nebraska, the United States, and the world for caring about the health and well-being of Deputy Mike "Hutch" Hutchinson and his family. The fact that so many people care about this issue and want to support this family is a tribute to the hard work and dedication of law enforcement officers throughout our country. Deuel County is a rural county in Nebraska's panhandle, which has a total population of less than 2,000 people. Needless to say, all of our citizens and county officials care deeply for one another, and many of us have known each other all of our lives. Like the rest of you, we were deeply saddened by the wrongful acts of the individual who shot Deputy Hutchinson late last year, and we continue to pray and hope for Deputy Hutchinson's full recovery.
We feel the need to clarify some confusion that seems to have arisen with regard to this matter. First, our understanding is that ALL of Deputy Hutchinson's medical bills which relate to this shooting have been paid to date by the County's workers' compensation insurance carrier. Under the Nebraska Workers Compensation Act, the County's insurance carrier is liable for all reasonable medical and hospital services, appliances, prescribed drugs, prosthetic devices, and other supplies that are necessary as the result of this shooting. Other benefits may also apply such as medical travel, the payment of lost wages, total or partial disability payments, home health care, and vocational rehabilitation benefits. To our knowledge, Deputy Hutchinson has received all benefits to which he is entitled under the Nebraska Workers Compensation Act, and we expect that the County's workers' compensation insurance carrier will continue to work with Deputy Hutchinson to ensure he receives the benefits to which he is entitled in the future. For more information on Nebraska's Workers' Compensation Act, please go to the Nebraska Workers' Compensation Court's website at http://www.wcc.ne.gov/.
Second, our understanding is that many people are concerned about Deputy Hutchinson and his family's ability to participate in the group health insurance policy provided by Blue Cross / Blue Shield of Nebraska. We are concerned about that issue too. Please understand that the rules regarding who is qualified to participate in the group health plan are not set by the County, and the County does not have the right to deviate from those rules. Rather, such rules are defined by the insurance company and set forth in the health insurance policy. To the extent that an employee loses coverage under the County's group health plan for any number of reasons (such as the inability to work due to injury), that employee may have the right to elect continuation coverage under COBRA and/or seek an alternative policy that would cover the employee and his or her family. The costs of such continuation insurance coverage or a new policy are to be paid by or on behalf of the employee.
Deuel County asks that all those interested in this process continue to send their well wishes, thoughts, and prayers to Deputy Hutchinson, his family, and his medical team. Deuel County appreciates the support that it has received from various professionals and state agencies, especially Sheriff Bill Brueggemann, President of the Nebraska Sheriffs' Association, on behalf of his organization. We also ask that everyone engage in responsible and respectful discussions of this matter so that long-term and meaningful decisions can be made that are not only in the best interest of Deputy Hutchinson, but also of our county. We will continue to work diligently to address this situation as best we are able."
Thank you.
The Deuel County Board of Commissioners